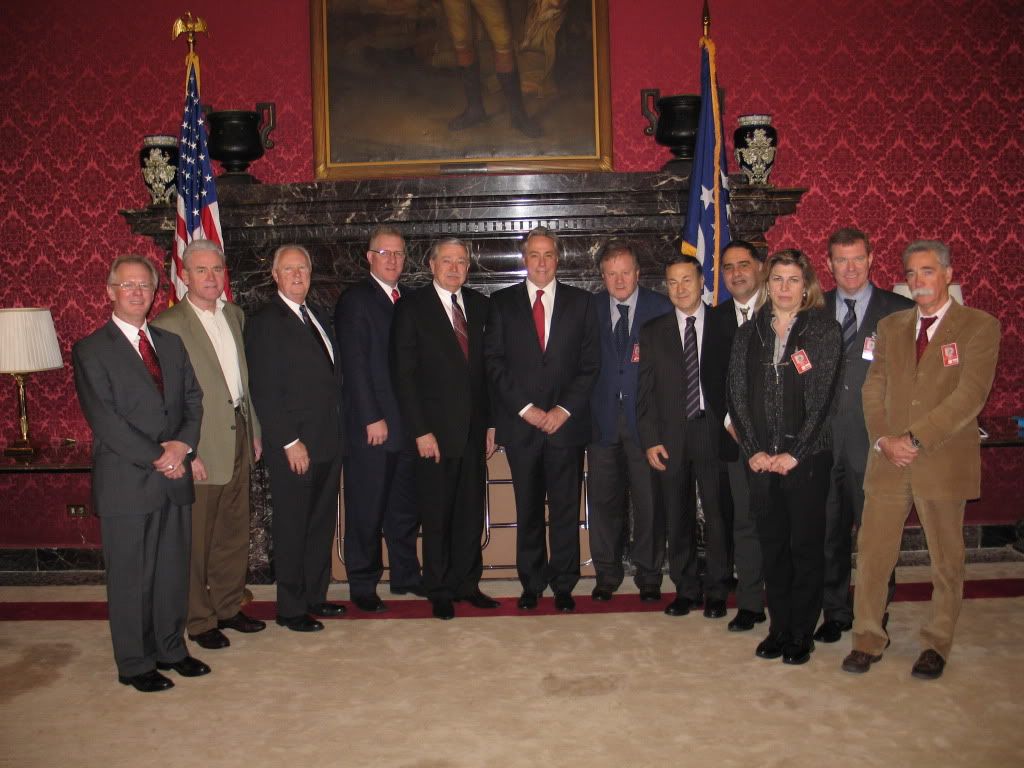 On January 27, 2010, ICI leaders met in the city of Catania, Italy where they updated the ICI's mission statement which calls for the creation of an "International Building Trades Service Corps". The ICI's Catania Declaration is as follows:
Dedicated to Greater Dignity for Construction Workers
While it is widely recognized that international peace and stability depend on removing the causes of social unrest, we still live in a world where vast numbers of people live in abject and grinding poverty – which is the principal cause of unrest.
Providing disadvantaged people an opportunity to learn and master the skills of a specialized craft can lead many to gainful employment, and through hard work and determination they can then earn for themselves a dignified track out of poverty and a real stake in civil society.
And because construction is, with the usual exception of agriculture, the largest industry in most developing and emerging countries, it is not possible to meaningfully raise worker standards in these countries without addressing the condition of construction workers. And who better to address that condition than construction workers themselves.

The Program
The purpose of the ICI is to strengthen construction unions in developing and emerging countries through a program of investment in workforce development and construction impact projects that benefit the poor.
Construction Workforce Development
An important contribution that construction unions can make is a program to help construction social partners in developing and emerging countries to build the capacity to operate construction skills training and apprenticeship systems for their industries. And because construction is inherently dangerous, worker safety and health training must be an integral part of these programs. The approach is to train-the-trainers, and after a period of joint operation to provide on-the-job training to the administrators, the projects conclude with the training program being turned over to local partners to run on an ongoing basis.
Institution Building Through Labor-Management Cooperation
To ensure the sustainability of these training programs it is essential that local bilateral training funds, funded by employer contributions based on hours worked, are established. Employers embrace the concept of multi-employer funds since the training programs increase productivity, introduce new technologies, and reduce costly injuries and fatalities, among several other benefits that bring greater stability to the industry. And this innovative model of investment in human capital not only transforms the lives of ordinary workers but also reshapes the thinking of local leaders and builds democratic, labor and management participatory institutions.
Construction Impact Projects that Assist the Poor A major collateral benefit of these training programs is the utilization of trainees on housing and community projects as part of the training experience. Graduates of the programs will be involved as volunteers on these projects.
International Building Trades Service Corps
In order to provide the knowhow to support these projects, we hereby propose the establishment of an international Building Trades Service Corps. The BTSC will coordinate an international network of reservists – highly skilled workers, training directors and construction design professionals, who will most willingly contribute their skills and several months of their time to create or upgrade construction skills training and safety and health programs in developing countries. The BTSC will also develop a specialized corps of stand-by reservists who will serve on reconstruction efforts in the wake of natural and man-made disasters.
Way Forward
Construction unions have pressing, indeed urgent, needs of their own memberships and obviously cannot sustain international aid programs out of their own dues revenue. They are, however, in a position to play a catalytic role in helping to meet the needs – including the international needs – of society and they do have valuable resources in people and expertise in the technology of building and in working with government, employers and people in general.
We call upon those in the building trades who desire to share their knowhow with partners in developing and emerging countries. By matching the need for workforce development and building technology in developing countries with the capabilities of building trades specialists in more developed countries, we can provide a way for individuals and their organizations to play a real role in reducing poverty – and, in a true sense, they can help thwart the seeds of extremism and contribute to the advancement of global security.
To ensure this project functions in a complete and harmonious manner, trade unions allied to construction will also be invited to participate, such as the electrical sector which can make a valuable contribution in terms of renewable energy solutions and infrastructure support.
In terms of funding, the intention is to seek government foreign assistance funds provided through construction unions in more developed countries. Such funds are largely generated from taxes paid by working people. It makes sense, therefore, for working people and their organizations to see to it that those funds are properly invested in programs that can make a lasting contribution.